Web design is the conceptualisation and creation of content on a website. Encompassing visual and technical web design elements, the design process also refers to apps on mobiles and tablets, as well as desktops. Effective web design has a huge impact on SEO performance, user experiences, and conversion rates.
Statistics from 2021 show there are over 4 and a half billion active internet users around the world, almost 60% of the world's population. As of June 2021, there are also over 1.86 billion websites online. As web designers, however, we're willing to bet that a surprisingly low number of these websites were created with an effective web design aimed at delivering consistent results.
The reason web design is important is it's the first impression a user has of your brand. When they land on your site a potential customer decides whether to remain on the page or leave to view a competitor's site. With the right web design, you capture a user's attention, help them navigate the page to learn the information they clicked for, and increase the likelihood of the user returning to your site again.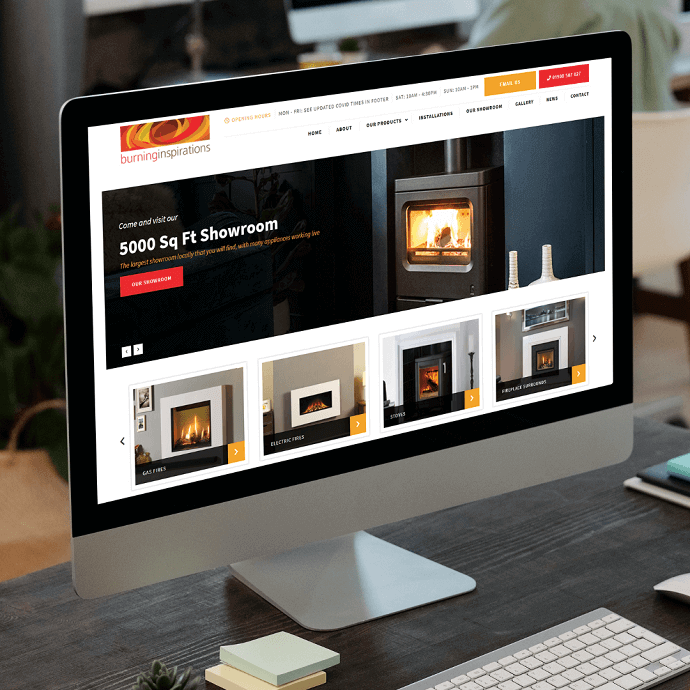 The Web Design Evolution
The internet's official birthday is January 1st, 1983. 8 years later, the first website was created by Tim Berners-Lee and its purpose was to explain the world wide web project. Since then web development has evolved and the website basics expected have changed slightly from back then. Instead of text on a white background, now we all want vibrant colours, innovative branding, and simple user navigation when we land on a website.
Web development has evolved relatively quickly compared to other aspects of technology. One of the biggest reasons for this is how Google has updated its search engine algorithm. Google wants to show users the best search results, answer the queries searchers are asking and help them find the information they're looking for. Web design helps you display important information clearly while creating visually appealing web pages.
Visual Web Design Elements
What does the user see when they land on your website? The answer encompasses all the elements of your visual web design. From the lines, shapes, and spacing to the colours and textures, all these elements complement each other to create an effective visual design. We've picked out three core visual design elements below and explained why they're so important to create a high-quality website:
Fonts
One of the main reasons people will visit your site is the content. However, how that content is presented is a massive factor in whether a user reads the words on your website. If your brand is more formal, the font needs to convey this and complement all the other visual web design elements on display. While if your brand is informal and lighthearted, the font choice should reflect this by being more casual.
Colours
Unique and vibrant colours have the potential to capture a user's attention. Bland websites use plain colours; exciting website designs use colours that breathe life into the entire design. This doesn't mean black and white is the wrong choice, it's how the colours are incorporated on the page and work alongside the other design elements. The colours you choose should reflect your overall branding too. Subtle shades are more professional, for example. However, if you want to show your company is fun, bold and bright colours are the choice to make.
Branding
Your website is one of the best opportunities to convey your branding to potential customers. An effective web design demonstrates authority, builds trust, and shows users what your brand is. To convey authority, a website doesn't have to be professional and feature subtle designs, it needs to have a consistent tone, visual appeal, and easy to navigate layout.
Technical Web Design Elements
While they may not be what users point out when complimenting your site, technical design elements are just as important when creating an effective web page. They determine how a user interacts with your site. Effective technical web design also has the potential to increase where your website ranks on SERPs. There are countless technical elements involved in creating a web page, so we've focused on three core features below:
Navigation
One of the most important technical elements is navigation as it's key for your website's functionality. No one wants to spend time searching for the information that made them click on a web page. Site navigation serves multiple purposes, which differ depending on the target audience for your web page and what stage of the buyer's journey they're occupying. Effective web design improves the user experience for new and returning site visitors.
Site Structure
Site structure improves your website for both users and search engines. Google uses crawlers – an automated program – to find and assess all the web pages on your site. Both your site's users and crawlers should be able to easily move through your website, finding the information they're looking for, without getting lost. You can influence which content on your site ranks highest on SERPs using the site structure to demonstrate to Google which pages are most important.
Speed Optimisation
When someone lands on a site they want to see your content instantly. Perhaps because of our diminishing attention spans, being forced to wait a few seconds for a page to load means many people click off the page straight away. You can decrease your bounce rate by ensuring all of your web pages have fast load times. The faster your site loads, the higher it has the potential to rank on Google too.
What is a Website CMS?
A CMS is an acronym for content management system. It enables you to manage digital content creation and modify any existing content on your website. WordPress, Hubspot, and Joomla are three of the most popular CMSs available. Using a CMS makes web design much simpler, whether you're uploading media or writing content.
Adaptive VS Responsive Websites
There are two main types of websites: adaptive and responsive. Adaptive websites use a static layout that detects the size of the screen it's loaded on and displays the layout that fits this structure. Whereas responsive websites are more fluid and modify themselves to multiple sizes to match the target device.
Both have positives and negatives. The right choice between adaptive and responsive websites depends on the goals of your website's design. Adaptive websites typically load faster but are harder to maintain. While responsive websites offer a consistent user experience across devices and are easier for Google to crawl and index. However, responsive designs often have slower page loading speeds.
Summary
Web design has evolved over 30 years of history to become one of the most important aspects of digital marketing. It affects how your branding is viewed by potential customers and search engines and has the potential to be the difference between a user bouncing onto a competitor's site and your site securing a valuable conversion.
Where a lot of website designs suffer is they're built without a clear objective or plan. Ask yourself who is your ideal customer? From there, how can you help them find your site and guide them towards making a purchase? All the elements of web design – page speed, site structure, and visual appeal, for example – contribute to whether someone becomes a lead or visits a competitor's site instead.
Specialist Web Design Services
For a website design that achieves your goals, get in touch with Loop Digital today. Our team of specialist web developers delivers bespoke, expertly crafted websites that reflect your brand. We have experience in a variety of unique web solutions, from eCommerce to B2B websites.
Discover your potential new website, explore what our web design services can offer you today.