As a predominantly digital brand, you'll be aware of the evolution of consumer behaviour which has resulted in savvier shoppers, longer purchasing paths and a growing hesitancy to trust new brands. Add in the volatility of many consumer markets, with newfound brands potentially entering your space, it's becoming progressively more difficult to get the attention your online business deserves. With the global switch from the high street to online, your business is in the perfect spot. Now it's just about ensuring you remain above the competition and secure that critical visibility.
So, whether inbound marketing is a new concept to you or you're looking to enhance your existing eCommerce strategy, let's explore how your business can benefit from an inbound marketing programme.
What is Inbound Marketing for eCommerce?
Inbound marketing is a marketing methodology that is fundamentally about creating and nurturing relationships with your prospects, leads and customers. By crafting valuable experiences for those who interact with your business you'll influence progression through the buyer's journey, ultimately closing more sales.
In the eCommerce world, inbound marketing emphasises the importance of customer experiences. With inbound, your business can change the way it communicates with your customers to increase sales and profits.
Inbound marketing strategies are multifaceted, omnichannel digital plans. Leveraging a variety of different channels, tactics, and techniques to communicate brand messaging. As modern marketing continues to evolve, inbound steers away from traditional, and often costly, outbound tactics. These techniques often disrupt the user experience and deter users from engaging with your brand. Inbound focuses on attracting new prospects to your business using relevant, engaging, and high-quality content.
Success for eCommerce brands is commonly found when the business takes time to thoroughly understand its desired audience. By doing this, the brand in question can churn out the right messages, to the right people, at the right time. Inbound marketing strategies are formulated on a solid foundation of research. By taking the time to understand your audience you can craft content that attracts, engages and converts your customers. Over time, you can choose to scale your inbound programme, making your website and content work harder to secure sales.
Why your eCommerce business needs inbound marketing
Consumers' reliance on eCommerce businesses like yours has intensified over the last 18 months and this trend is set to continue. More and more businesses are flocking online to secure their own market shares, making for an increasingly competitive environment for all industries and sectors. There hasn't been a more pivotal time for your business to up its marketing capabilities. To emphasise our statement, here are the facts:
Analysts found that eCommerce now accounts for more than a quarter of all retail sales in the UK (Osome)
The eCommerce market is expected to grow to £80,678 million by the end of the year (Statista)
The number of users within the eCommerce market is expected to amount to 62.1 million by 2025 (Statista)
Inbound marketing is a must for businesses to succeed in the online space, it empowers engagement with prospective, current and past customers. eCommerce is an extremely competitive industry, your business needs to leverage inbound tactics and techniques to get to the forefront.
Being a content-led strategy, inbound marketing aims to make it easier to connect your business with potential customers via search engines. According to a Google study, 49% of shoppers say they use the search engine to discover or find a new item or product. With inbound, you can utilise your high-quality content to secure your position on page 1 for your targetted key terms.
Particularly crucial for eComm brands, inbound marketing aims to delight your customers long after their initial purchase. By empowering your customers to find success with their acquisition you'll convert these regular customers into loyal brand advocates. Doing so will achieve two things; 1. You'll encourage them to return for future purchases, and 2. You'll inspire customer referrals, via word of mouth or in the online space, introducing new prospects to your brand.
The best inbound marketing tactics for your eCommerce business
Blogging
Paid Media
Social Media
Content Personalisation
Augmented Reality
The way your eCommerce inbound strategy is formulated will depend on your business, goals and your target market. Before you can dive into choosing your tactics, you should build persona profiles of your ideal customers and have a solid understanding of what your business and marketing objectives are. These will serve as the foundation for all of your marketing activities going forward.
For more information about planning your inbound marketing strategy, check out our downloadable guide.
Blogging
A pivotal tactic in any inbound strategy irrespective of industry and sector. Blogs can help establish your business as a thought leader and trusted brand in your niche. Consumers increasingly conduct research online before committing to a sale, obviously, this will vary on the value of the product or service.
Written content is a sure way to increase your business's visibility in search engine results pages, which is why this tactic is commonly paired with SEO. Whilst consistently creating this content can feel very time consuming it can offer a significant return on investment for your business.
Use keyword research to understand what is it your ideal customers are searching for. How your prospects construct their searches will influence what content your business should be creating. Additionally, this keyword research will help establish what your competitors are doing, sparking inspiration but also supporting you to capitalise on topic areas they aren't ranking for.
For eCommerce blogs and written content, you need to establish a clear and concise path to purchase, after all, that is the goal. Include well-presented call-to-actions or contact forms, beware though, your blogs should never feel like they are going after a hard sale. This is a sure way to push your prospects away. To find the right balance between providing value and influencing a sale you should consider using a/b testing or conversion rate optimisation to really enhance the results of your tactics.
Paid Media
Paid media is a broad marketing tactic and encompasses everything from search ads to sponsored posts on Instagram. It can be the perfect tool to attract buyers based on what they're already searching for, which is commonly a strong indicator of their intent to purchase.
Before deciding where to allocate your paid media budgets you should consider where your customers spend their time online. In addition to this, you should consider your marketing objectives too, evaluating exactly what it is you're looking to achieve. From this, you can determine the best ad options for your business.
One of the best things about paid media tools like Linkedin Ads and Google Ads is that they enable you to be extremely targetted with who your ads are displayed to. Use your buyer personas to create a target audience that aligns with the criteria determined from your research. This will increase the effectiveness of your ads and boost your return on investment.
Social Media
All businesses across all industries and all sizes should be leveraging social media in some capacity. For B2C businesses, social can be a highly effective tool in a variety of ways. Social media channels present a great opportunity for you to create a community around your brand, encouraging user-generated content and positive reviews or stories.
In addition to this, customers see value when a brand has a social media presence. It's now more commonplace for customers to reach out to brands via social channels to share positive feedback, and with the same token, their grievances. It's important, as a brand, that you respond to feedback, this is a basic expectation of your followers.
Social is particularly important for eCommerce and presents a number of opportunities for expanding your brand reach, like influencer marketing for example.
To really boost your visibility via social media, you should consider pairing your organic content with paid media. Utilising these tactics side by side will expand your reach, build brand awareness and increase traffic to your website.
Content Personalisation
A fairly newer technique in the marketing world. The term content personalisation can apply to a multitude of marketing activities, from email marketing to smart content on your website. Big brands like Netflix and other VOD (video on demand) platforms do this particularly well. As an eCommerce brand, content personalisation should be a marketing technique you have in your inbound arsenal.
Beware, there is a fine line that you need to establish with personalisation though. Not enough personalisation will likely go unacknowledged by your prospect, and too much can appear somewhat creepy to the user. A recent study found that 80% of customers are more likely to purchase a product or service from a brand that provides personalised experiences. In addition to this, 79% of customers said they only engage with a brand's offering if that offer has been personalised.
It's safe to say, if your brand isn't already implementing personalisation in some form, then you definitely should start. Website personalisation for example can provide a custom experience for the user dependent on things like user behaviour or search intent. By creating these unique events for your customers, you'll increase the likelihood of a conversion or sale.
Augmented Reality
AR is here and it's here to stay. Increasingly brands are leveraging the power of AR, and our smartphones, to influence purchasing decisions. Augmented reality helps the prospect visualise the product ahead of completing a purchase.
Really great examples of AR in action are demonstrated by large fashion brands, furniture businesses and the cosmetics industry. This technology empowers customers to bring the product into their own environment, enabling users to essentially 'try before they buy'. Augmented reality negates the need for constant samples or delivery and returns, particularly in the current climate, this will undoubtedly save your brand money.
Not only does AR provide an engaging experience for your potential customers but it also demonstrates your brand's innovation, outshining your competitors. Although AR has been around for a little while now, this technology will still be new to a number of your customers. Leveraging these up and coming tools will generate a level of buzz and enhance the status of your brand. A report found that only 1% of retailers are actively using augmented reality within their marketing activities. Get ahead of the slow adoption and start implementing AR into your customer buying experience.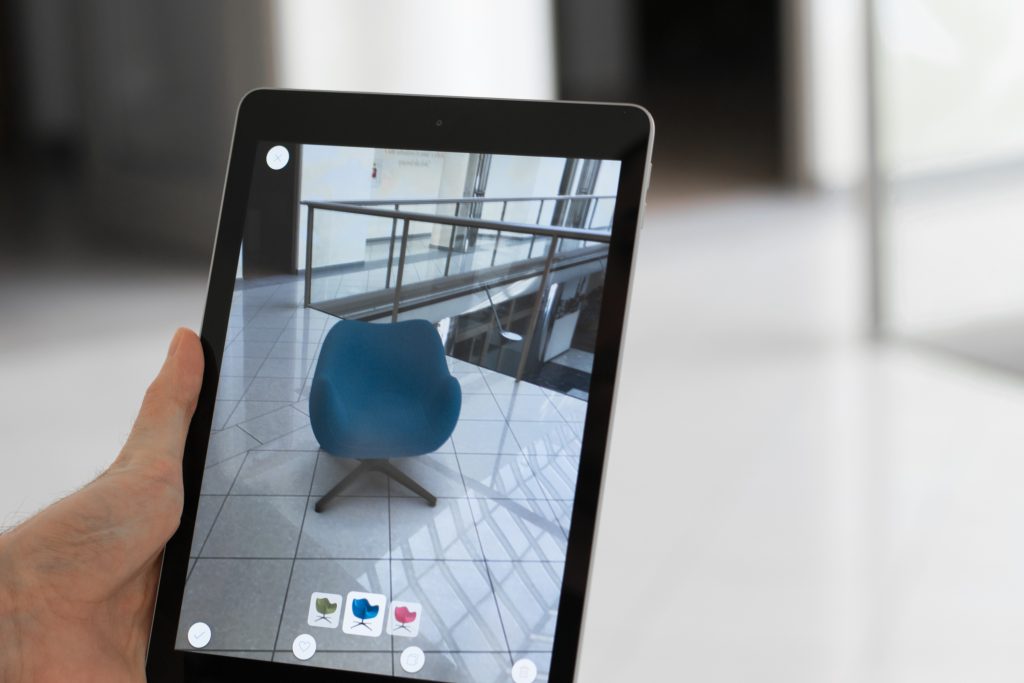 Loop Digital Inbound Marketing
At Loop Digital we create inbound marketing strategies for a variety of businesses across different markets and niches. We take the time to get to know your business, goals and target market to ensure we create a solution that will maximise your return on investment. If you're interested in growing your business with inbound, visit our complete marketing packages or get in touch with our team today.