Inbound marketing has grown significantly in the last few years and is now reported to be the primary approach for 74% of marketers across the globe. The methodology came to life back in 2006 and whilst the key principles remain the same, it has undergone significant changes throughout the years with the help of advances in tech and changes in consumer behaviour.
Fundamentally, the inbound methodology is built upon relationships. Your company's growth depends on building meaningful and lasting relationships with everyone that interacts with your business, from prospect to customer. With inbound, you're looking to leverage content to empower your customers, help them overcome their challenges and ultimately achieve their goals.
The methodology seeks to attract customers by serving engaging and informative content tailored to them, aligning to their challenges and goals. It aims to steer away from more traditional outbound marketing tactics that are often disruptive and more expensive, offering no guarantee of positive results for your business. With inbound, because of the organic and natural way that you attract and engage with your visitors it has a deeper influence on later buying decisions. The best part is that inbound relies more on the brains rather than the budget, aiming to secure customers through organic means instead of paid.
How does the Inbound Methodology look?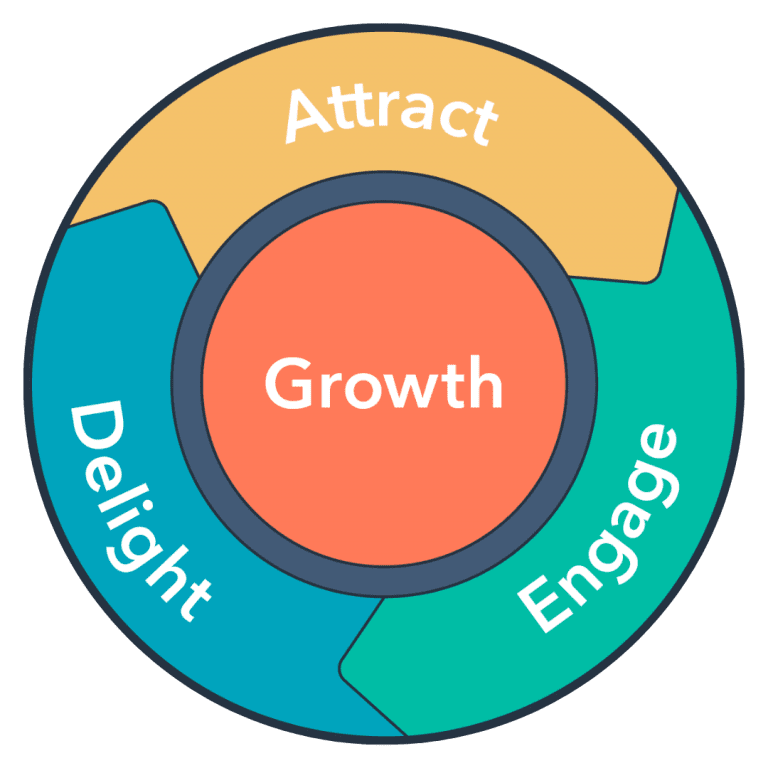 The inbound methodology can be applied in three different ways, each aligning to a stage within the buyer's journey.
Attract
In attract, you're looking to lure in your visitors and prospects using valuable content and conversations that will help establish you as a trusted knowledge source, one they are likely to return to.
Engage
Here, you can begin to introduce insights and solutions your business offers, detailing how your products or services can help your prospects overcome their challenges and pain points.
Delight
Providing support to empower your customers to find success with their purchase. When customers find success, they are likely to share their successes with others, attracting more prospects to your business and the cycle starts again.
By implementing this method, you can start to grow your business by building meaningful, and more importantly, lasting relationships with your consumers. By continually keeping the cycle going your business builds momentum, offering the opportunity for continual and sustainable growth.
Why do you need Inbound?
Technology continues to change the way that we find, buy, sell, and interact with brands online. As marketers, we need to develop the way we sell to reflect this shift in consumer habits. A large proportion of an inbound strategy is producing and sharing high-quality content to organically and naturally attract prospects to your business online. By continuing to earn a lead's trust, when it comes to making a purchasing decision, you're more likely to be the company they favour based upon the relationship you've already built with them.
The Inbound Methodology and Marketing Flywheel
The marketing flywheel, like the inbound methodology, was developed by HubSpot, the US marketing, sales, and service software provider. The flywheel takes inspiration from Amazon's business model – the Bezos' Virtuous Cycle.
The marketing flywheel perfectly demonstrates the momentum a business can gain by delivering exceptional experiences for prospects, leads and customers. Your inbound strategy and the tactics you choose to implement are all considered as 'forces', these forces encourage the flywheel to continue spinning and provide growth for your business.
In the basics of science if something can feel the effects of force it can also feel the effects of friction. The friction applied to the flywheel slow down the momentum and in-turn your growth. What causes this friction varies from business to business, issues like cross-department miscommunications or a drop in conversion rates are two examples of friction. Understanding your causes for forces and friction can help ensure you keep the flywheel spinning and provide the optimal opportunity for growth.
Now you may be wondering how the inbound methodology and the flywheel model link together. In short, they both go hand in hand as seen in the image below. Your marketing, sales and service teams all serve a unique purpose that aligns to a stage in the buyer's journey. Working together, it's each department's responsibility to promote force, alleviate friction, and ultimately provide great experiences that keep the flywheel spinning.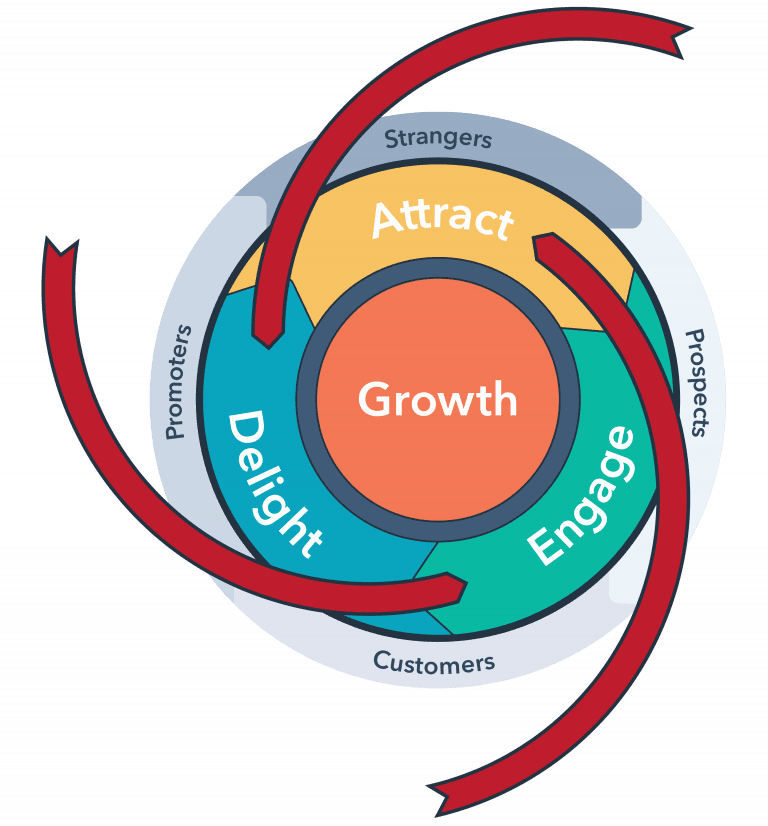 Inbound Marketing Strategies
In the inbound methodology, content is key. Carefully configured content can be applied to every stage of the buyer's journey, promoting brand awareness, increasing conversions, and encouraging brand advocacy. An inbound strategy can consist of a variety of multimedia – blogs, emails, video, podcasts, streams, social. There are lots of tactics to choose from, we'd recommend leveraging media that you know your personas engage with enabling you to focus on content that will bring the results you want. There's no harm in testing and trialling different forms at a later date, after all, that's a huge part of the world of marketing.
The content you create should be informative, engaging and align with your target demographics. If they're experiencing symptoms of a problem, sympathise with them, and encourage them to action the solutions you put forward. If your content hits that sweet spot and connects with your users you'll find that they come back for more to continue learning and explore your products, services, or solutions.
How can we help?
We've adopted the latest inbound marketing practices to deliver the best results for all of our client-partners. We understand the importance of achieving sustainable growth for your business, we leverage inbound tactics partnered with the flywheel model to generate exceptional experiences for our clients and their customers. Start growing your business with inbound marketing, get in touch with a friendly team today.