All website projects typically follow a structured process to ensure a smooth project from start to finish. From the first initial meeting with a client to discuss requirements, expectations, and timelines to the creative concept and web build – right through to the anticipated website go-live. Having a well thought out process in place can save time and energy in the long run.
One of those steps to ensuring an efficient website build is Wireframing and Prototyping.
What is a Wireframe Web Design?
A wireframe is a quick and effective process, usually carried out after the sitemap has been confirmed and before the development of the website begins – it is quite simply, a sketch of a page's interface which shows; elements on the page, the layout of the content, functionality details and how users will interact with the site.
Low fidelity wireframes
The best way to start wireframing is to go back to basics, with a pen and paper. This is a great way to flesh out ideas quickly and it doesn't have to be polished.
By listing all of the top-level elements, for example, logo, navbar, carousel banner etc – we give ourselves a checklist of things to consider when thinking about our site layout. Making us think with a more strategic mindset – rather than incorporating elements as we go along during the development of the site which can be inefficient.
The next step would be to layout our elements on the page. Here's an example of what a finished wireframe web design might look like: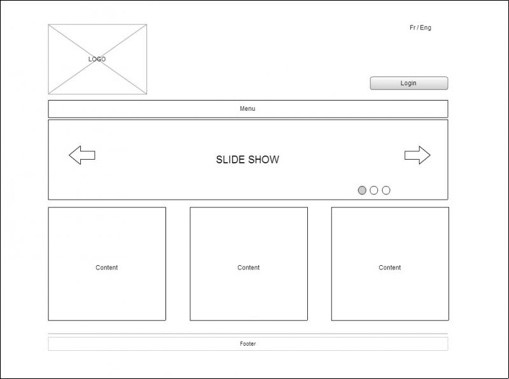 What is a Prototype Web Design?
Once the wireframes have been mapped out – the next step is to get stuck into the design by building a prototype. A prototype is essentially a working demo of the website which closely resembles what the finished product will look like – this is where we bring our design to life.
Most prototype web designs are clickable and can mimic authentic user's interactions, providing the client with a complete user experience without investing hours of time on the development.
Why are Wireframes and Prototypes so Important to the Design Process?
Mapping of elements and functionality
Being able to easily map out functionality early on, will save time on revisions later on down the line – it's much quicker to make revisions to a wireframe web design than it is to a site which is already in the development phase.
"It's easier to use an eraser on the drafting board,
than a sledgehammer at the construction site."
Frank Lloyd Wright
Provide focus
Wireframes were made to be simple – they're devoid of any styling. That means no colours, logos or any design elements which can distract away from the purpose of the exercise. We take away all of the stylings in order to focus purely on the structure of the site rather than getting caught up in the aesthetics too early on.
Get the client involved
Asking the client to provide feedback on the prototype web design is a great way to get them involved in the decision-making process for the design. By gathering feedback early on – we can determine any flaws, likes, dislikes the client might have in order to match the design to the client's expectations and vision.
In summary…
The benefits of wireframing and prototyping allow you to save time across the entire project. By investing a short amount of time at the very start of the design phase to map out the layout and producing a replica prototype web design of the site you'll be able to ensure a more efficient build phase.
How can we help?
If you're looking for a new website or a redesign of your existing one, at Loop Digital we build and design websites for a variety of businesses across a variety of sectors. All of the websites we create are bespoke and generate tangible results for all of our client-partners. Get in touch with our friendly team today, send us a message or call us on 01604 806020.