Blogs are articles on a topic and are a highly effective marketing tactic. Generating high-quality, fresh content for your website drives traffic, establishes thought leadership within your industry, and gives you valuable resources to share on social media channels and email newsletters. Blogs are a form of content marketing that is a crucial element within an inbound marketing strategy.
Most internet experts say the first blog was published in 1994 by a student called Justin Hall. Since then, blogging has become a powerful element for marketers looking to achieve consistent results. In 2021, 82% of marketers say they actively invest in content marketing, which shows more and more marketers are using blogs to achieve their goals. If you're getting ready to launch your inbound marketing strategy, you need a comprehensive blog writing strategy for the approach to deliver results.
What is a Blog?
As a marketer, you may be confident you know what a blog is. However, as there are many explanations floating about online, here's Hubspot's favourite definition of what a blog is:
"A blog is a website with frequently updated content about a specific keyword or topic-oriented topic."
Blogs, like digital marketing, don't stand still. They need to be updated regularly with valuable content. Blog writing covers anything you could imagine. However, you should only cover topics that are relevant to the products or services offered through the website. While you may want to write about the new James Bond film, the blog won't be relevant if you are trying to secure conversions for asset finance, for example – but you could always include a topical reference as long as it makes sense.
Why Are Blogs Important? (SEO and Inbound)
Content marketing attracts traffic to your site. Blogs that have been optimised for a specific keyword or topic rank higher on SERPs, making it more likely a visitor will click on the link. From an SEO perspective, there aren't many pages that are actually on your website. The homepage, about us, and service/product pages won't be updated often either. 
Having a blog is a prime opportunity for your website to show up in search engines, as it's another page Google can index. On a basic level, publishing frequent blogs shows Google's algorithm that your website is still active. However, the benefits blogs offer for your SEO efforts are much more powerful than that.
As part of your content marketing strategy, use blogs to rank for more relevant search terms, attract inbound links, and guide the user towards a conversion. At Loop Digital, we're a digital marketing agency that offers inbound marketing services. So, on our blog, we write about inbound and content marketing (and much more!), so we rank for keywords related to these two topics.
Writing good content also does more than drive traffic. A regularly updated blog that offers value establishes you as a thought leader within your industry. This builds trust between your website and prospects, increasing your brand awareness and making it more likely they will choose you when deciding to make a purchase.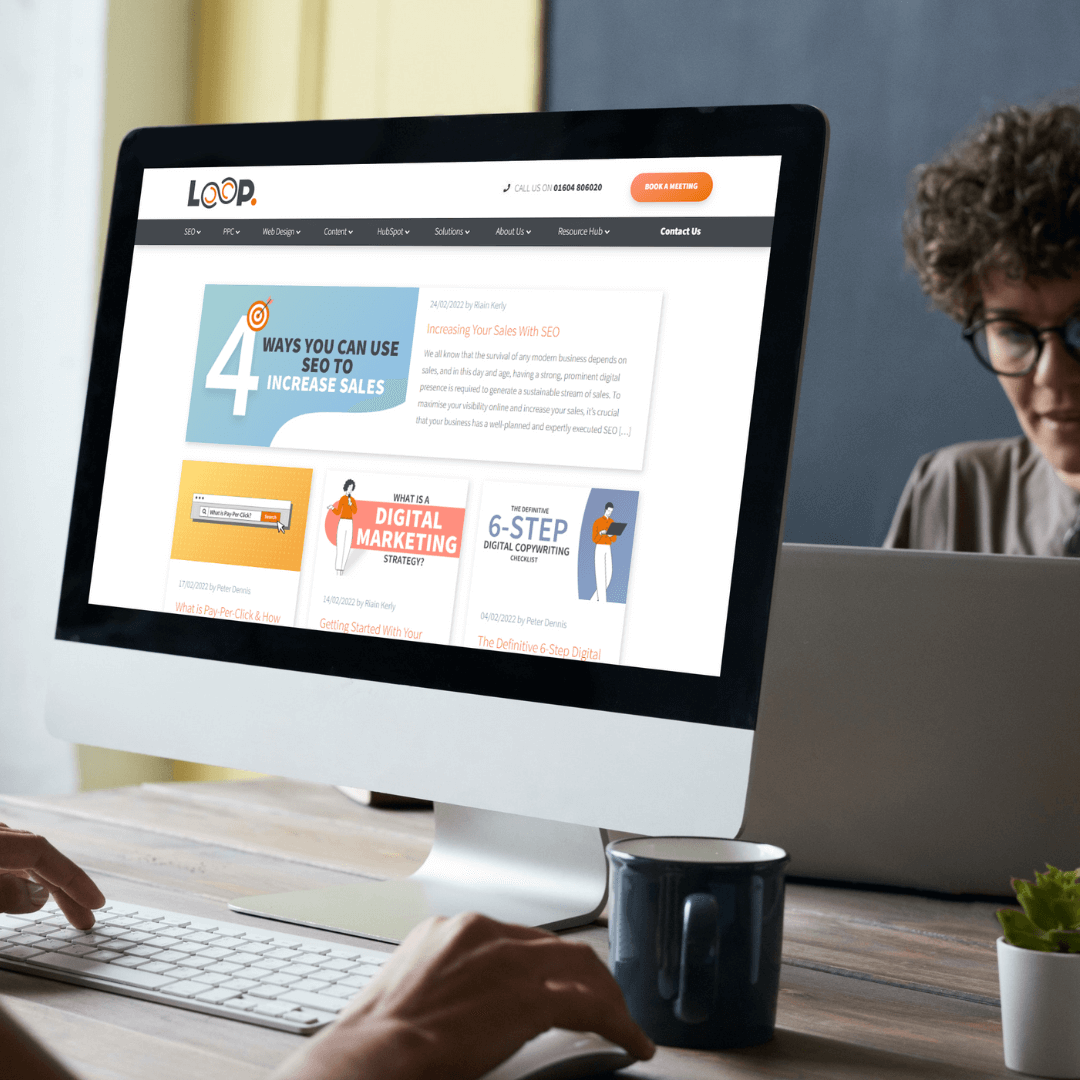 Blogging and Inbound Marketing
Where many websites go wrong with blogs is only focusing on optimising the content for search engines. It sounds surprising, but many marketers forget there is an actual human reading their blogs. As part of your inbound marketing strategy, you need to optimise the blog to match the user intent to provide value to your site's visitors.
Inbound marketing works by attracting customers through valuable content and experiences. Rather than reaching outwards to people who may not be interested in your website, you allow people who are to find you organically. To do this your content should address your target audience's pain points, answer their questions, and inform them of information they need.
Doing so positions your brand as an advisor the reader trusts. This makes them more likely to purchase from you when they reach that stage of the buyer's journey. There are three stages to inbound: attract, engage, and delight. Blog writing helps you to do all three as blogs attract traffic, engage users with valuable insights, and offer support to existing customers too.
Why Do Consumers Engage With Blogs?
Customers read blogs that are interesting to them. Think about everything you've read online when researching a product, you probably read it as you were interested. While it may not have necessarily been an exhilarating 500-word thrill ride, the content contained information you wanted, or needed, to know.
Unlike product or service pages, blogs aren't directly selling something. If the user isn't interested in making a purchase yet, they won't engage with the content on these pages. However, they will read a blog if it's relevant and valuable to them. Not many people have patience online, capture their attention quickly – this is one of the biggest blog writing tips to remember.
A blog may also be a landing page for a consumer visiting your site for the first time. If you're ranking for many relevant search terms, users looking for information on your topics will see your blogs. This means they're likely to click through and read the content. However, what is stopping a prospect from bouncing straight off the page?
The reason many people engage with blogs is the content answers their questions. During the research stage of the buyer's journey, people are seeking to solve any pain points they have. Blogs are a great way to address a problem your target audience has and position yourself as the ideal solution. This benefits the user and the business at the same time.
How to Create a Blog
The first thing you need to create a blog is an idea. You need to think of a topic that's relevant to your target audience and will provide them with value. Then you will need a copywriter to take this idea – it could be a title, target keyword, and short description of what to write – and create it. Unfortunately, there isn't likely to be a eureka moment where the perfect idea comes to you – it will take research. 
You will need to conduct keyword research to find a target search term and topic. From there, you will need to analyse competitors to see what content users are engaging with. These are two ways to think of blog ideas that benefit your inbound marketing and content strategies. However, an effective blog needs many ideas and a clear schedule for creating and publishing your content, which takes time and copywriting expertise to implement.
Summary
Now you know what a blog is and when it's an essential tool for marketers. In fact, an inbound marketing strategy can't function effectively without a regularly updated blog. While many aspects go into a content marketing strategy, there are some key tips to take onboard:
Write about relevant topics.

Target relevant keywords.

Add value, don't copy existing content.

Match user intent.

Make sure every blog has a purpose.
Loop Digital Inbound Marketing
Loop Digital is an inbound marketing agency with an expert copywriting delivery team. We tailor our service to deliver solutions that match your goals and our team leverages a variety of unique marketing tactics within our inbound marketing strategies, which blogging plays a crucial role in.
Learn how your blog can generate leads and build brand awareness today, get in touch with our friendly team.