People can access the internet via all sorts of means. Using their smartphones, tablets, laptops, TV's, watches and home devices. The resolution of each of these displays can be different, as can the orientation, so it's important to design web pages so that they can be used with each device, ensuring an optimal user experience, seamless between one device to the other. But in the modern world where there are so many new devices, each with different resolutions, web designers have a hard job keeping up. However, this is where the hero of responsive web design comes in.
So, what is responsive web design?
Responsive web design is when the webpage is built to respond to the screen size, platform and orientation of the user's device. To achieve this, the website developer would program a number of CSS media queries, and use a variety of a mix of flexible grids, layouts and images to achieve a fully-dynamic design.
This basically means that once the developer has completed the appropriate code, the web page should respond to the user's behaviour, and the screen on which it's being viewed, including the size, platform, and orientation. Because this has to be built into every page of a website, it is best to build in responsiveness to the site during the initial build rather than having to go and add it in later, which can be very difficult and time-consuming.
For instance, a user could view a webpage on their laptop, and then view the same page on their tablet, and the page would automatically switch to accommodate the change in resolution. Doing this successfully means there is no need to develop a new website design and layout for every new device that enters the market!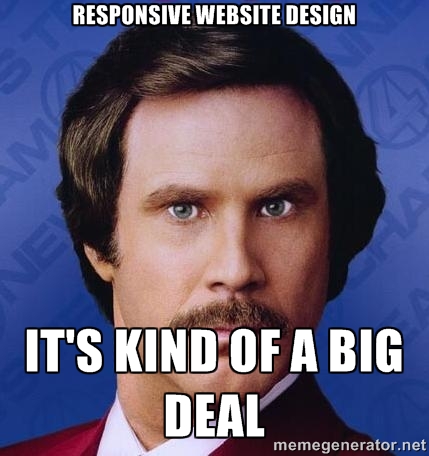 Aspects of responsive web design
Screen resolution
The tech industry is a very crowded marketplace, different devices often have different screen resolutions and orientations, and this makes it difficult to display the same content on them. On top of this, when on desktops, people often don't maximise their browsers, so this leaves an almost infinite number of possible screen sizes.
One way around this is to make everything on your webpage flexible. Images can be resizable, and there are a few workarounds so layouts never break. It essentially means having a mixture of fluid grids and images that move closer and further away depending on the resolution of the screen they're being displayed on.
Flexible images
Another aspect that needs to be considered is that images will have to be resized depending on the screen resolution. Fortunately, there are a number of techniques that can be used to resize images using CSS coding.
Custom layout structure
For extreme changes in size and orientation, it may be best to rethink the layout altogether. It's possible to have an entirely separate style sheet or use a CSS media query to translate the same style to a different size or orientation.
Showing or hiding content
Sometimes you can try your best to replicate a desktop webpage on a mobile device, but there comes a point where you don't want all the information displayed on a desktop site to appear on a mobile site.
This may mean hiding some of the content within menus and buttons to be expanded as needed so that a small mobile screen doesn't get too cluttered and users can choose what they see and what they don't see. In a mobile environment, you're also going to be more inclined to show text in rows, rather than multiple columns, just to make it easier for users to read.
How can we help?
At Loop Digital, all of the websites we design and build are bespoke, created with your business and your audience at the forefront of every decision we make. If you'd like to learn more about the sorts of websites we build visit our web design page or our blog for more information. Alternatively, if you're looking to take your business to the next level, get in touch with our team of experts today.