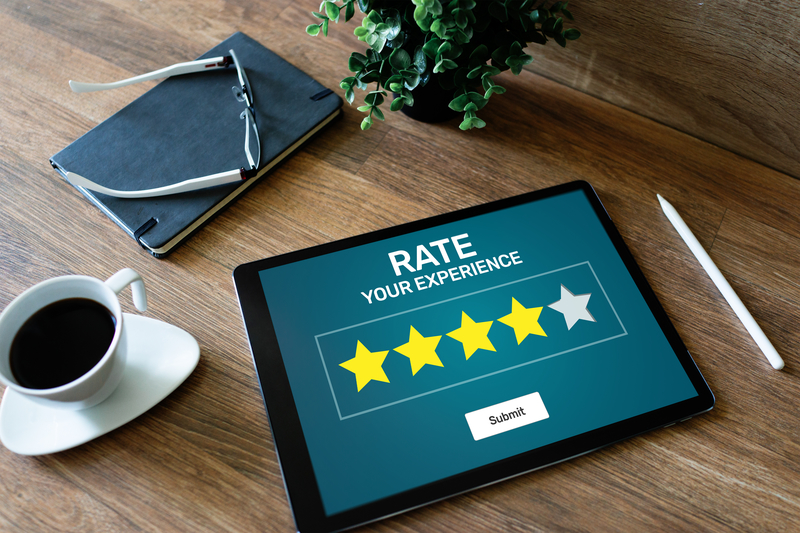 Do online reviews really matter?
The answer to this question is absolutely yes, online reviews do matter, and they make a big impact on all types of business – whether you're a bricks and mortar business or an e-commerce site.
According to research by Review Trackers, 49% of consumers always or very often check online reviews, a survey by Podium suggests that 93% of consumers say online reviews do impact their buying decision, and 82% of consumers do read the reviews before making the buying decision.
There are many studies on how reviews influence consumer behaviour, without a doubt online reviews are important as these are feedback from your customers about how they feel about and think of your products and services.
Below are some statistics about online customer reviews. We will also dive into how to acquire online reviews as well as how online reviews influence search engine rankings on local SEO.
If you prefer visual content to written information, we have prepared an infographic for you, we hope you enjoy reading our blog and find it useful. Click here to see the infographic.
Without further ado, let's see how consumers react to online reviews.
Table of Contents
Do online reviews really matter?
Consumers are reading reviews
How online reviews impact businesses
How online reviews impact consumers
Why respond to customers reviews?
Which online review platform?
Dealing with negative reviews
How online reviews impact SEO
Why you need online reviews and how to ask for one
To conclude  
Online Reviews Infographic
Consumers are reading reviews

– Nearly 95% of shoppers read online reviews before making a purchase. (Spiegel Research Center)
– 93% of local consumers use reviews to determine if a local business is good or bad. (Bright Local)
– 72% of customers do not take action until they have read reviews. (Testimonial Engine)
How online reviews impact businesses

– Displaying reviews can increase conversion rates by 270%. (Spiegel Research Center)
– 97% of shoppers say reviews influence buying decisions. (Fan and Fuel)
– 88% of buyers are influenced in their buying decision by reviews. (Zendesk)
– Having five reviews results in purchase likelihood increasing by a factor of almost four times. (Spiegel Research Center)
– Given two products with similar ratings, consumers are more likely to buy the product with more reviews. (Psychological Science)
How online reviews impact consumers
– 85% of buyers trust reviews as much as personal recommendations. (Bright Local)
– 73% of consumers trust a local business more after reading positive reviews. (Bright Local)
– 54% of consumers visit a local business's website after reading a positive review. (Bright Local)
– 73% of consumers trust a local business more after reading positive reviews. (Bright Local)
– 68% of consumers look for either information on the reviewer's experience, or problems the reviewer experienced when reading reviews. (Fan and Fuel)
Why respond to customers reviews?
– Not replying to reviews risks increasing customer churn (customers ceasing purchasing from or visiting the business) by up to 15%. (Chatmeter)
– 7 out of 10 consumers changed their opinion about a brand after the company replied to a review. (Bazaarvoice via Marketing Charts)
– 53% of customers expect businesses to reply to their online reviews within seven days. (Review Trackers)
– 41% of consumers say that brands replying to reviews make them believe the company really cares about their customers. (Bazaarvoice)
Which online review platform?
– A recent online reviews survey by Review Trackers found that Google is the review site of choice. (Review Trackers)
– 6 in 10 consumers now look to Google for reviews before contacting the business. (Review Trackers)
– According to studies, Google dominates nearly 60% of online reviews and reviewers are also more likely to leave reviews on Google than elsewhere. (Review Trackers)
– With Google dominating the review market, consumers today are most likely to search for local businesses, finding information about the company and make their visit all without leaving Google. It'll be more important than ever for businesses to understand how that works and pay close attention to their local search and rating on Google.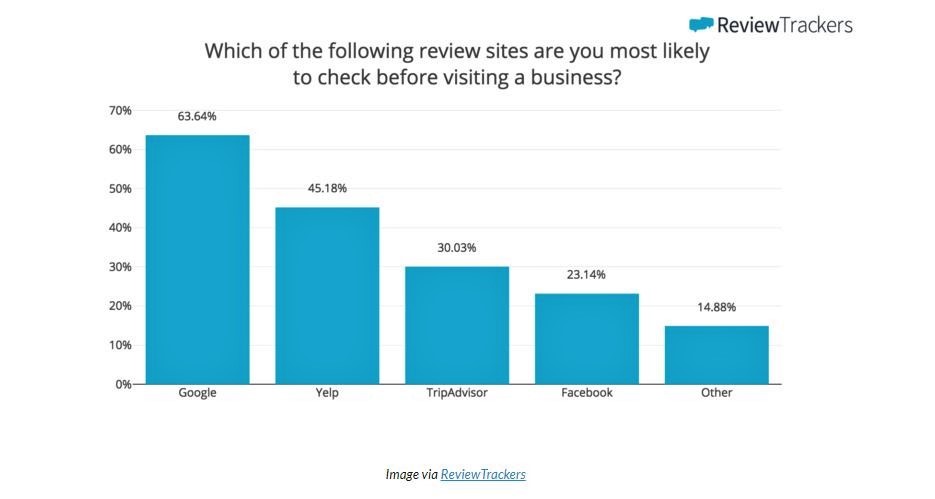 Dealing with negative reviews
We all know that negative reviews will hurt your business and it happens to almost every business owner. However, responding to negative reviews can generate positive results. Statistics show that customers who posted negative reviews have changed their mind with positive feedback after receiving a reply from the business. Below are some tips on how to turn a negative review into positive action for your business.
– Respond quickly.
– Be sympathetic and put yourself in the customer's shoes.
– Keep it polite and professional.
– Take action and offer to make it right.
How online reviews impact SEO
Now we know the stats and facts about customer reviews let's take a look at online reviews from the SEO perspective and see how important it is to utilise the power of customer feedback.
In the 2018 Local Search Ranking Factors report from Moz, it shows that online reviews make up 15% of the local pack ranking factors. As you can see from the chart below – review signals came in the top 3 factors and outranked on-page signals, citation signals, behavioural signals, personalisation, and social signals. According to Moz, online reviews are factored into organic local search rankings too.
The evidence of the growing importance of online reviews is undeniable. An official statement from the Google My Business support page titled 'Improve your local ranking on Google' confirms this. "Google review count and score are factored into local search ranking. More reviews and positive ratings will probably improve a business's local ranking."
2018 Local Pack/Finder Ranking Factor by Moz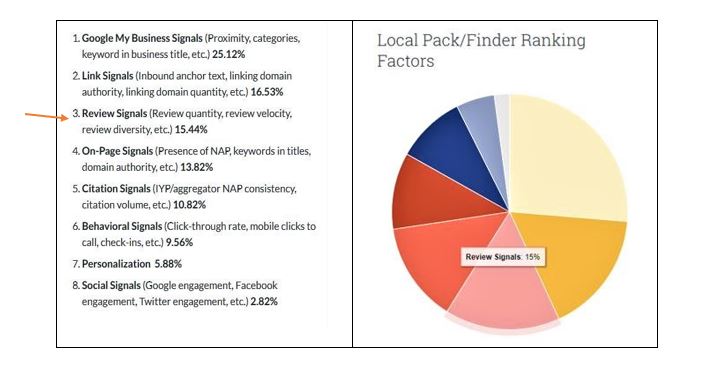 Why you need online reviews and how to ask for one
In today's digital world, the voice of the consumer is louder than ever. With the ease of leaving a review online, more and more consumers are seeking out online reviews in order to decide upon their purchase decisions. This basically means that consumers are more likely to do business with you if they know that other customers have reported a good experience. So, finding ways to acquire more reviews will increase your business credibility, boost your brand reputation and truly differentiate your business from the competition.
Now that you know how online reviews influence consumer decisions and the benefits of having online reviews, it's time to build your own online reputation management strategy. Below are a few practical tips to get you started on asking your customers to leave a review for your business.
1. Send out a survey to find out how your customers feel about your products or service.
2. Follow up with a thank you email and ask for a review.
3. Make it super easy for your customers to leave you a review by including a custom link to your business's review page. For Google reviews, you can use the Google place id tool to create a short link to include in your email.
4. Encourage customers to rate their experience of the services that you have provided along with your brand mention as this will generally include the niche keywords that you wish to rank for.
5. Make sure you give the customer a guideline to follow as it will have a positive impact on the return rate.
6. Reply to the review. According to research, by responding to reviews, you are not only building trust with your customers but also gaining trust from search engines like Google. As we all know that Google likes to show credible sites on the search results page, just make sure you use your keywords naturally in the reply.
In summary, the importance of online reviews is hard to ignore. Although we can't prevent fake reviews, this does not detract from the power that good, honest reviews have in helping consumers make their buying decisions. This, in turn, will help businesses generate more revenue from customers that feel assured about the quality and service they can expect from your company, meaning happy customers that will return to your business again and again.
How can we help?
Securing positive business reviews should be a part of your wider marketing strategy. Customer feedback links directly to the Delight stage of the inbound methodology which emphasizes the importance of generating great user experiences for everyone that interacts with your business. In the delight stage, you want your existing customers to serve as brand advocates for your business, encouraging others to explore your products and services, reviews serve the perfect platform for this. If you're looking to begin your inbound journey and start securing consistent and sustainable growth for your business, get in touch with our team of experts.