When it comes to Search Engine Optimisation, keyword research is the bedrock upon which all good optimisation is built. But for many, keyword research can prove tricky and pretty overwhelming, especially if you're new to the world of online optimisation.
With so many keyword research methods out there, (and so many keywords!) it can be hard to know where to start. But since having an understanding of the keywords you need to target is so integral before mapping out your content marketing plan and SEO strategy – and even your overall marketing objectives – it's one area you simply can't skip. Luckily we've got some tools that will make your life a lot easier.
Why is keyword research so important?
In case you're new to keyword research and SEO in general, it's good to understand why you should conduct keyword research in the first place. Keyword research is one of the most powerful methods in search marketing, not only helping you target the right phrases for your SEO but also get an insight into your audiences wants and needs. Great keyword research simply comes down to clever use of clever tools… and a little bit of clever thinking. The first thing to learn is that the search box is your friend! As are your customers.
Understanding the landscape of search around your industry and key topics that you cover means that you can produce content that people are actively searching for: answering questions users have, mapping shifts in the market, and predicting future demand. Understanding consumer trends and behaviour can be a minefield of study but with keywords research, this data is more easily available, as technology improves, so does the depth of our understanding.
How does keyword research work?
There are lots of different types and methods of keyword research, from research revolving around:
– Competitor keywords
– Current ranking keywords
– Suggested/related keywords
– Semantic keywords
Each effectively has the same aim: to determine new, better or the best SEO keywords to target. However, first, you need to determine a few core keywords from your knowledge of your business and what you expect people will search for to find you. From here you can go on to expand this out into similar keyword phrases, uncovering any other key terms that might be better to target. You can also unearth some synonyms or semantic keywords which you can work into your content to be found in similar related searches.
To do this, there are a few incredibly helpful tools to assist you, and we've put together a list of the best tools we think you should consider using if you're starting out in SEO. We've also noted which you can use for free, pro accounts and key features within each platform.
SEMRush- Top Tool #1
SEMRush is excellent for a host of keyword research. When just beginning your keyword research, it's a great place to start by assessing your own ranking keywords and syphoning off your competitors' keywords.
Searching for your Own Keywords
To search for your own keywords, simply key in your own domain and have a look! Honda's website below, for instance, ranks for over 40K keywords.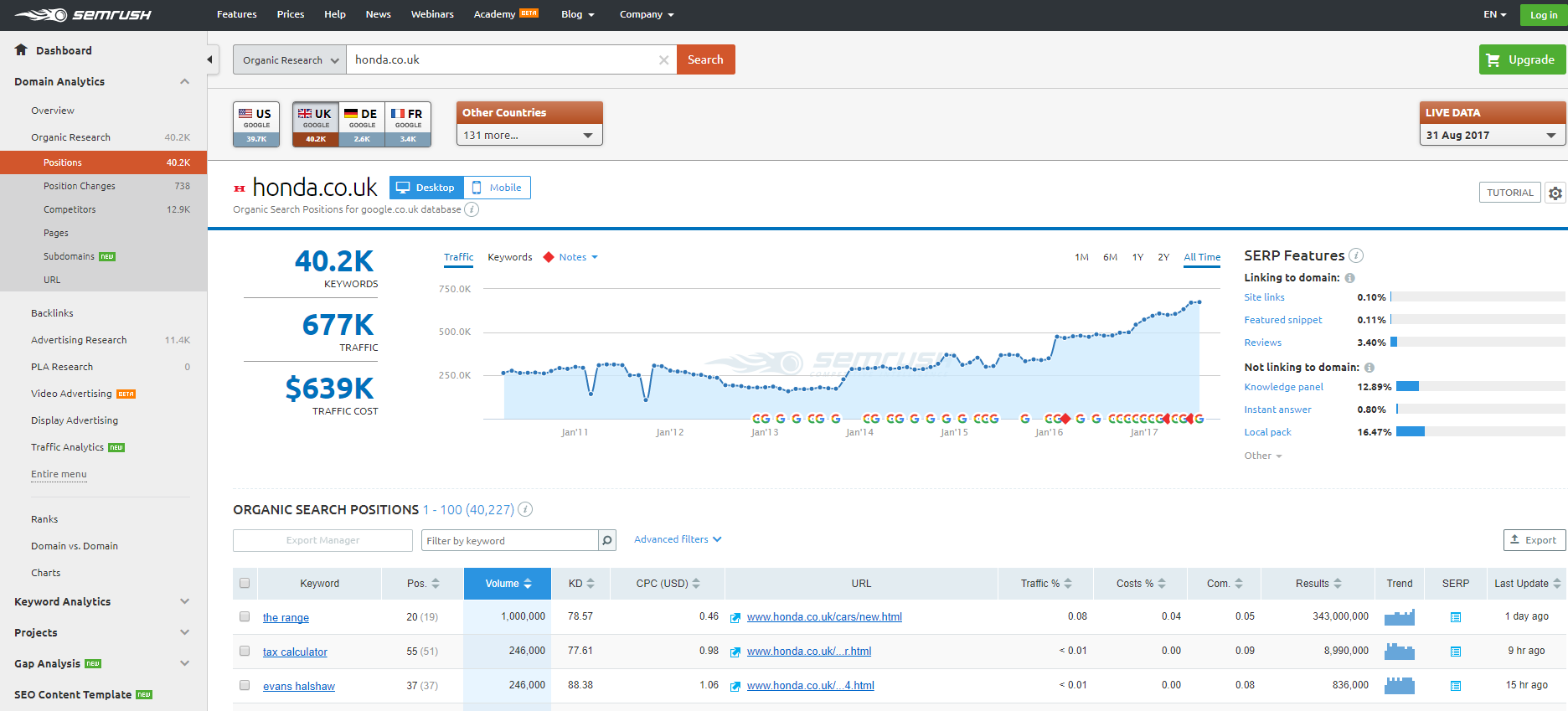 Over time you can track this and see how your search visibility is improving, as well as initially seeing where you're not ranking at all so that you can tailor your SEO strategy to compensate for this.
Finding Competitor Keywords
As for finding your competitors keywords, simply note some of the websites that rank above you in the search results for a couple of your key phrases, and export the keywords they rank for.
From here you can sort the keywords:
– By monthly search volume to find the most popular searches
– By competition/Cost Per Click to find low competition keywords (that will thus be easier to rank for)
We like to do a combination of these strategies so that we can get the optimal balance between high traffic and low competition keywords, while we build up a site to rank for more difficult high competition, high traffic keywords.
Find Long Tail Keywords
You can use your competitors to find long-tail keywords too (a longer phrase containing your keyword) since these will often unearth topics that you may have never thought to cover on your website. For instance, a competitor in a photography niche might have covered 'the history of photography' while you only cover information on modern therapies, so you can now tap into this relevant and numerous traffic.
Also, looking at your current keyword rankings and visibility in comparison to your competitors means that you can highlight keywords and phrases that they are ranking for, but you aren't so that you know where you can improve.
When you want to do some more digging into advanced keyword research, you can utilise some of SEMRush's other excellent keyword analysis tools such as:
PPC and SEO ad copy research with Keyword Magic
Find keywords that rank well in both Bing and Google to target traffic across search platforms and collect detailed information from search volumes, trends, number of search results and a snapshot of the current ad copy.
Find Related Keywords using the Full Search Report
Finding related keywords means that you can target new, relevant topics and search queries for latent semantic indexing. You can also realign your SEO to new keywords that have a higher search volume to better tailor your campaign. SEMRush also offers synonyms of these words so you can further expand your list of LSI's to capture as much traffic as possible and increase your relevance.
Google Keyword Planner – Top Tool #2
Whilst the Google Keyword Planner Tool is made for Google Adwords and paid advertising ventures, you can use it to find new keywords too. Simply enter in a few core keywords to get you started and the tool will generate a list of phrases containing your core words, as well as some related search results. All of these you can again filter by search volume or competition.
You can also:
– View traffic forecasts for particular keyword phrases
– Export the keywords with their search volume
– Group keyword together in ad groups for campaigns or SEO content
– Run keywords back through the tool to further expand keyword results
– Search for ad group ideas, which show related keywords
Since Keyword Planner is a compiled list of the 'Related Keywords' that you find at the bottom of your search results, it's an excellent way to uncover words and topics that might be useful to you and your business.
Keywords Everywhere – Top Tool #3
Following on from related searches, you can also download the free Chrome add-on, Keywords Everywhere which will allow you to see the search volume for terms as you search in Google. The search volumes will show both in the top bar and in the Related Search section so that you can further drill down into topics and find more related searches as you go.
You can copy and paste keywords you want to research into the Bulk Upload Keywords section of this tool, but this only gives search volume and CPC, which are metrics you can get on most of the other tools.
Storybase – Top Tool #4
Storybase is another fantastic tool for hunting down SEO keywords.
Storybase, like most of these tools, gives you the monthly search volumes, but it also gives you a few extra bits too.
One of its best features is that it lists commonly asked questions revolving around your core keyword.
For instance, if you sold office supplies you could find out a comprehensive list of all the questions people have on your topic so that you can answer the important ones on your website, such as: 'How to make weapons out of office supplies'.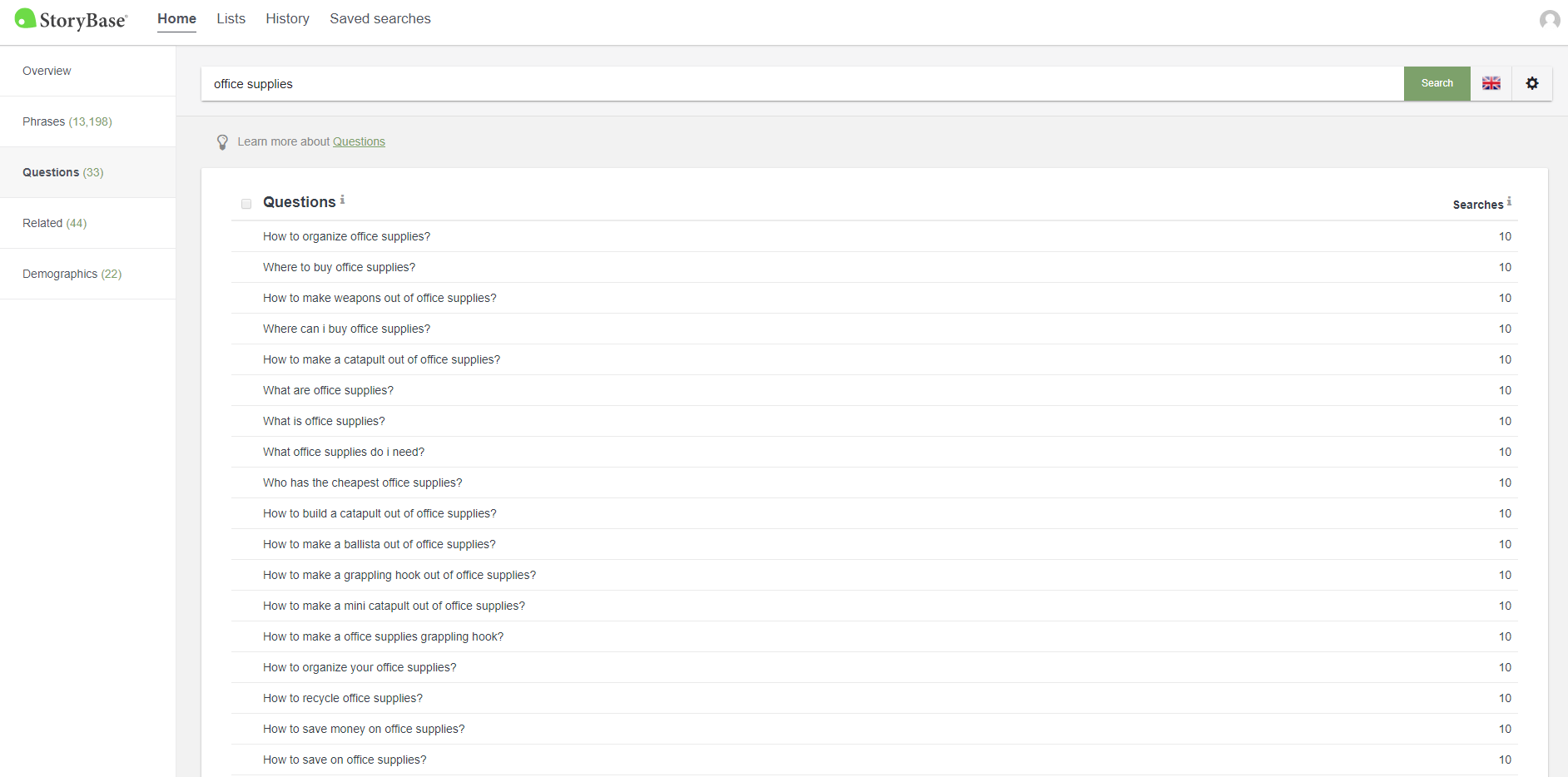 Storybase also breaks down the demographic of the types of people searching for your term, so that you can better understand the audience behind each keyword. This can also help you tailor your content to them to create something more engaging and useful for those who find you.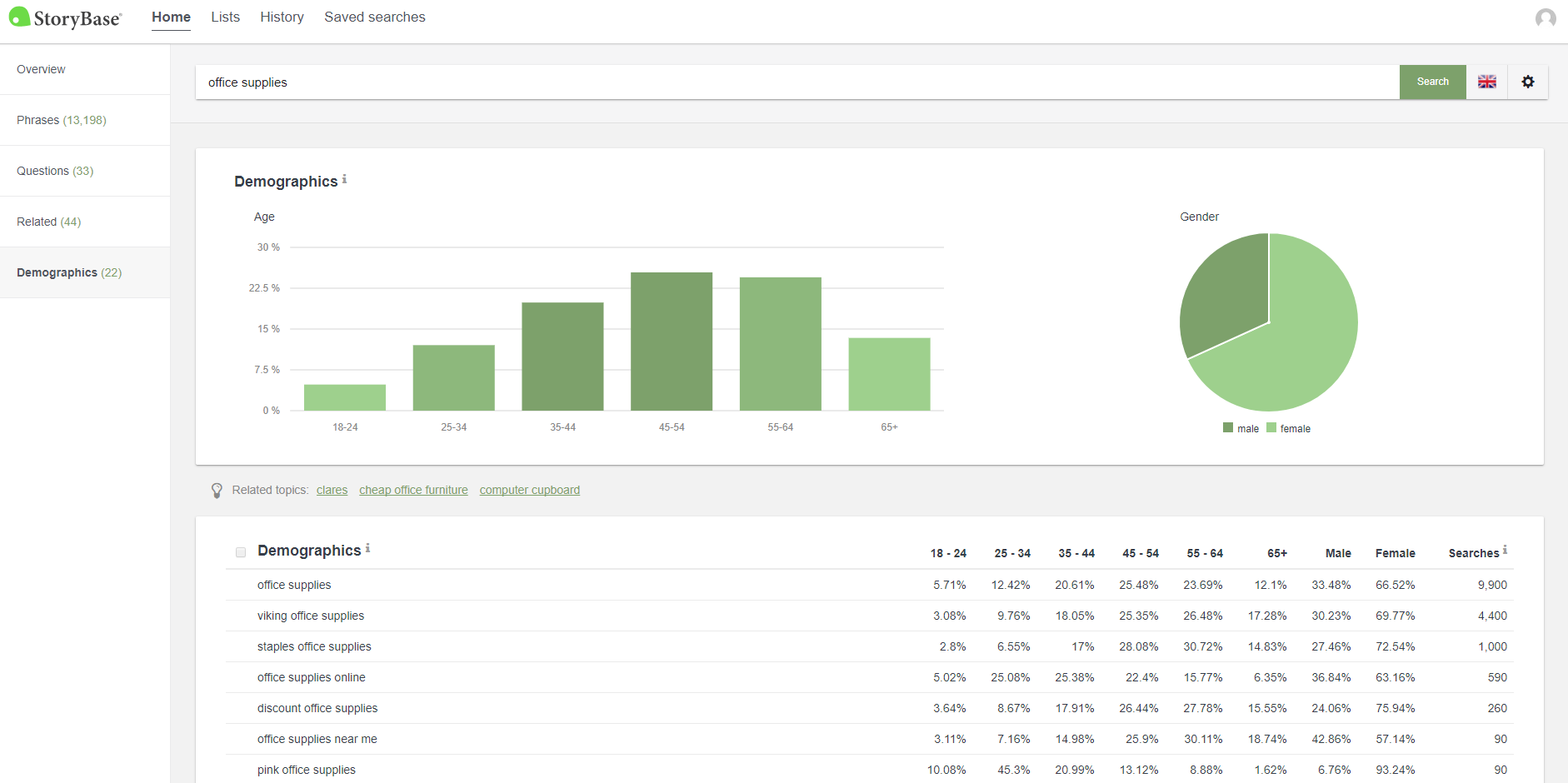 In the above chart, you can see that in nearly all cases the majority searching for office supplies are female, but that branded supplies such as Viking or Staples tend to be more middle-aged users – indicating perhaps that they are searching on behalf of a business – versus those searching for 'pink office supplies' are younger in their 20's and 30's, indicating that this stationery is more for personal use.
The content you create related to this can therefore be tailored to the user, their needs and their intentions when they buy. In this instance, you could create a post on the longest-lasting stationery or a brand comparison piece for those searching for business needs, and a visual post listing the top 10 prettiest stationary/focussing on the latest stationery trends for your younger visitors.
In addition to the demographics tab, you can also find a list of words and topics that are commonly paired with your core keyword in the 'Related' section, or create lists of keywords you want to use with the Lists feature.
Keyword Explorer by Moz – Top Tool #5
Moz's Keyword Explorer adds a few extra dimensions into your keyword research, which are well worth considering, such as:
Keyword Difficulty
Unique to Moz, the Keyword Difficulty metric helps show you how hard it is to rank organically for a keyword or phrase, ranked on a 0-100 scale (like all of Moz's metrics). This is based on looking at the other pages that are ranking, and their page and domain authority strength. As the difficulty score goes up, the keyword becomes exponentially harder to rank for; Moz representatives have stated that while the 50 mark is around the middle of the road, it still requires effective SEO to rank for. Meanwhile, if a keyword scores over 70 or so, you'll be looking at a particularly challenging search to rank within.
Keyword Opportunity
The opportunity metric shows you the relative Click-Through Rate (CTR) of the organic search results. This is a great way to measure the estimated volume and value of rankings in these results and look for opportunities to optimise to rank in other formats such as featured snippets.
Keyword Priority
Your Keyword Priority Score (formally Keyword Potential) helps you rate the level of traffic opportunity available for that keyword. For instance, if the traffic and CTR are high, but competition is low, your Moz Priority Score will be high. However, if the competition is higher, or the level of search volume is lower, your Priority Score will drop.  This can help weigh up which keywords to target over others.
You can find out more about the helpful metrics and other ways you can use the Keyword Explorer data here.
Keyword Tool – Top Tool #6
Keyword Tool works using Google's Autocomplete data and is a brilliant tool for mining for long-tail keywords. This tool is especially great when used in conjunction with Google's Keyword Planner, which is specifically designed for Adwords and advertisers, and may not show up the sorts of useful long-tail keywords that would be useful for your SEO campaign.
The Keyword Tool will show you limited data on each phrase, but if you sign up for the pro version you'll get the standard metrics such as search volume, CPC (for Adwords) and competition.
You can also search for long-tail keywords within a specific search engine or websites, such as Google, YouTube, Bing, Amazon and the App Store.

Utilising all of the above you will have a comprehensive list of the keywords you can target, and from here you can do a multitude of things. Some top tips from the pros would be to:
Filter keywords by search volume and then by competition
Do this in excel by pressing CTRL and then A to select all of your data, then navigate to the Data tab. Click Sort and sort by search volume first by Z-A (descending order), then by competition from A-Z (ascending order). Try switching this around to see which are the best low-competition keywords to go for. You'll find you get different results.
Sort competitor keywords by topics
Find top-ranking competitor keywords and sort your competitors' pages ranking for these phrases in alphabetical order. Pages will group together and you'll quickly be able to identify pages that are ranking well or for a lot of keywords, and highlight topics that you can cover too. This way, you can dilute their web traffic and increase your own.
How can we help?
SEO practices like conducting keyword research can be a daunting process and a resource strain on any marketing department. Keyword research will play a huge role in your wider marketing strategy so it's crucial that it's completed thoroughly and efficiently. At Loop Digital, seeking new marketing opportunities through keyword research is second-nature to us, if you're looking to kickstart a campaign, enhance your marketing and grow your business, get in touch with our team of experts today.