Posted on 10/07/2020 by Luke Kennedy
Ecommerce Website? Here's Why You Should Invest in SEO
E-commerce SEO is the process of making the best out of your online shopping website and ensuring you are attracting visitors to your shop. To do this you will need to make sure your website ranks higher on search engine results such as Google, Bing and Yahoo then your competition!
Ecommerce SEO: The Beginners Guide
Increasing traffic is important for every business owner, with more customers comes a larger ROI, so the thought of starting up an ecommerce website may have crossed your mind a few times. It can be very difficult to get the results you are after at the start, understanding the basics in Ecommerce SEO will help you on your way! So this beginners guide will start your journey towards becoming a pro!
What is Ecommerce SEO?
Search Engine Optimisation for Ecommerce can be a long process as it involves a lot of different tasks to make sure your website shows on top of the search engine results pages whenever a customer searches for your services or products.
When you search for something on Google, you are taken to the search engine results page (SERP):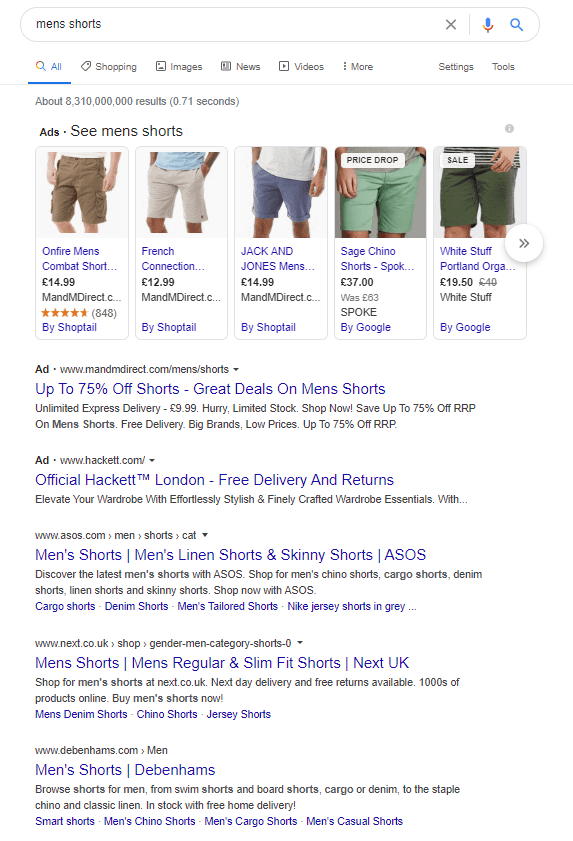 So you will find organic searches, like these: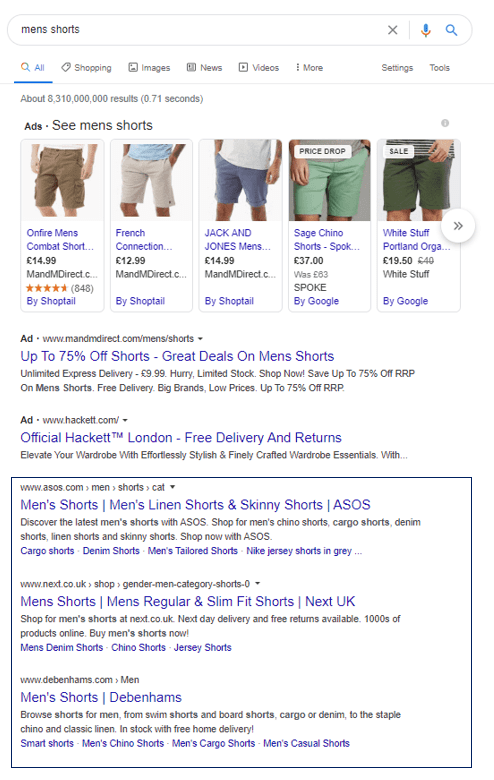 And you will also find paid ads results: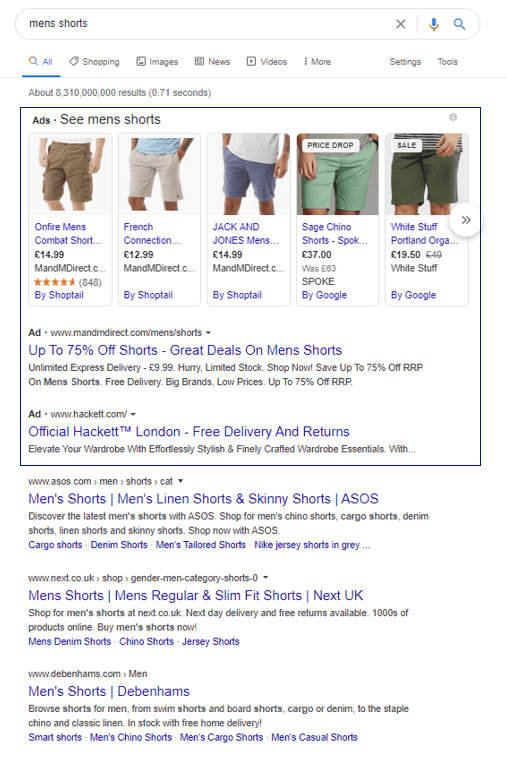 Ecommerce SEO is about making sure your pages appear as high as possible within the organic searches. There are, of course, many results pages but as everyone knows, if you are on the first page you will generate a lot more traffic to your site!
Keywords
The first step to successful SEO is researching your keywords. Identifying high-value search terms that potential customers use. Ecommerce Keyword research is a lot different to what people read online. As most sites will care about keywords such as "how to.. Improve sales", but an eCommerce site will want to rank for keywords such as "mens tops". Ecommerce sites should have commercial keywords that show products, whereas information sites will lead to blogs and content – which is why the two keywords are so different.
Sometimes eCommerce SEO can be done wrong, if you abuse the practices you may get a penalty from Google (resulting in no visibility at all). Methods like spamming your website with keywords and purchasing too many links to build the website's backlinks just to rank higher will not be beneficial to your progress. Google will penalise your website, if this does happen to you, then customers will not be able to find your site at all.
User Metrics
When a customer clicks onto an eCommerce product page, then clicks straight off and goes back to their search, that shows Google they couldn't see what they were searching for and that your website is not displaying the correct 'E-A-T' signals.
E-A-T stands for Expertise, Authoritativeness and Trustworthiness. It comes from Google's Search Quality Rater Guidelines, used by human quality raters to assess the quality of Google's search results.
E-A-T is important for all different queries, but some more than other ones. If you're searching for images of a cute dog, then it doesn't matter if you think the dog isn't cute. But if you're searching for a medicine dosage, this is when E-A-T becomes important. If Google was to surface this content from an uneducated writer, published on a website that lacks authority, then this content is most likely inaccurate.
This is why you have to ensure that you create relevant, topical, expert content for your business. You want to show your customers that you know what you are talking about:
– On a product page, make sure you have a detailed description that is unique to that product
– On your category pages, make sure you have relevant information about the products & services you supply
So if you want a customer to stick on the website and buy the product then you need to do the following.
– Make sure the description is correct and appealing
– High quality images or video
– Having reliable reviews
Make Sure You Have A Secure Website
HTTPS provides a more secure browsing by encrypting data. When making online purchases, data is passed between computers, if a site isn't HTTPS, anyone can see this data. Which means logins, addresses and card details can be kept more safe when using HTTPS.
Recently internet browsers have been updating the way they deal with an unsecure site. They will flag this up when you land on a site as a pop-up or may display a warning in the URL bar, either way, this is a bad signal to your customer & they may end up leaving your site before they even start to look through your site!
It doesn't stop there, certain search engines also give a small amount of ranking factor to sites that are HTTPS! It is vital to ensure you have a secure Ecomm site if you wish to attract customers & manage to retain them.
Competitors Investing In SEO
Ecommerce itself is very competitive, the majority of your competitors will have already invested in SEO. So now it's your turn to update your website to a search engine friendly future for the business, in turn making your brand more visible to your potential customers.
Overall, if you do have an eCommerce site then Search Engine Optimisation is the best investment you could make. It will increase sales, create new customers and more importantly give your brand awareness.
I hope you enjoyed this week's blog, stay tuned for some more tips next month! If you're interested in improving your ecommerce online presence and adding SEO, be sure to give us a call on 01604 806020 or visit our contact page today for more details.
Looking for your next opportunity?
Digital marketing careers
We're always on the lookout for talented individuals to join our ever growing team. If you think you'd be a great match for Loop Digital, we'd love to hear from you.

Stay in the loop... subscribe to our newsletter for all the latest industry news
"*" indicates required fields