Meme marketing is a type of viral marketing which aims to use memes to achieve a business's marketing goals. These objectives could be to increase traffic to a website or provide funny insights to an existing customer base, for example.
Memes are everywhere on the internet. Trends pop up every second of every day and soon enough someone will have created a meme on the latest trending topic. Most people think of memes as funny images, captions, or gifs; however, they can be used to provide insights and build a community around a brand. This is why meme marketing is continuing to grow as a strategy for businesses.
Effective meme marketing helps to foster a community around a brand. It's important to recognise that meme marketing isn't a smart strategy for every business. Whether or not meme marketing is the right tactic depends on your industry, company personality, and any products or services you're offering.
What Is A Meme?
A meme can be hard to define. It's almost like a colour; you can't describe the colour red without using the word red. Memes are described in the dictionary as:
'an image, video, piece of text… typically humorous in nature, that is copied and spread rapidly by internet users, often with slight variations.'
This basic description downplays the opportunities that can arise through memes. Social media is the place where memes are born, thrive, and become viral. Whether it's Twitter, Instagram, or Facebook, as you probably know, it's hard to scroll through a handful of posts without seeing a meme.
Memes are a reflection of trends and popular culture. A good marketer always looks for ways to connect with potential customers and generate new leads. Creating original memes that capitalise on trends is a great way for businesses to increase online engagement.
Here are some examples of memes and how businesses have used them to market themselves:
How Are Memes Used In Marketing?
Seamless
The academy awards go viral and create viral moments pretty much every year. They provide great marketing opportunities for businesses in all industries. In 2014, Seamless, an online food ordering service based in North America, used the Oscar nominations announcement to market itself using memes.
Creating the hashtag #OscarNomNoms, Seamless created a range of memes based on the most popular films nominated for Oscars that year. Their audience and followers loved it and it raised their brand awareness as people shared the hashtag across Twitter and Instagram.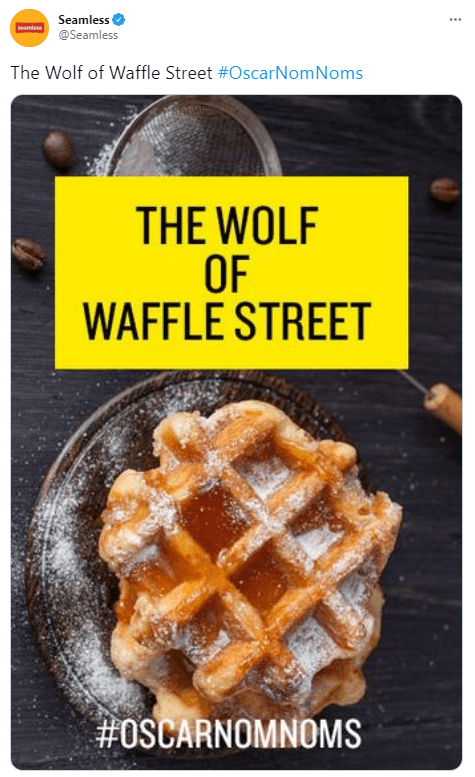 (Source: @seamless)
Go Puff
Single, taken, or other is a meme that's been popular for a few years. Now and again it will circulate more widely or go viral incorporating a new trending topic. Go Puff is a digital delivery service that uses its social channels to engage with its audience in a fun and original way. They reformatted the structure to integrate their brand into it in a relatable and funny meme.

(Source: @gopuff)
Netflix
Netflix is a massive brand that has taken meme marketing to another level. Its account '@netflixisajoke', the handle is used on Instagram and Twitter, posts memes almost exclusively. It's a great example of a brand connecting with its audience. They've tapped into something many people do, share memes on shows or films they've recently watched.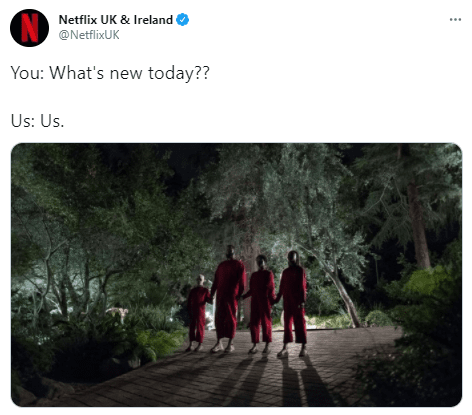 (Source: @NetflixUK)
The reason it works is that it uses unique memes that are funny, topical, and incorporate popular Netflix Originals. A less effective marketing campaign would use outdated memes and recycle ideas that would disengage the viewer not only with the account but the brand itself.
Why Brands Are Using Meme Marketing?
For large businesses, meme marketing is often used as a form of viral marketing. The aim of publishing a meme is to go viral. For the most famous brands in the world – Coca Cola, Apple, and McDonald's, for example – going viral is a significant possibility, with the right meme. However, this doesn't mean meme marketing doesn't offer many benefits for SME and large businesses.
To create an effective meme marketing strategy it's important marketers utilise social listening. As marketers, it's important to analyse the trends and online conversations occurring in your industry and popular culture – that's what social listening is. Discovering these insights and trends is the ideal way to make more successful marketing decisions.
Once you've discovered a trend, memes can be created with very little effort. All it takes is creativity and a good original idea. Many online tools can be used for free to create a meme image. Memes also take the form of gifs that can be used by anyone, adding a unique comment alongside the gif is what will make your meme stand out.
Many businesses are using memes to foster and engage with a community based around their brand. It's a great way to ride the wave of a popular trend and capitalise on people's interest in it. However, it's important to jump on the right meme. Marketers shouldn't only ask how to use meme marketing, but whether it's right for their business.
Who Should & Shouldn't Use Meme Marketing?
Is meme marketing the right digital strategy for your business? Only you can make that judgment. Retailers are an example of an industry that can use meme marketing to great effect by creating funny memes. As a marketer, if you can keep up with the latest trends and imagine original ideas, you can create an effective meme marketing campaign.
For B2B organisations, meme marketing will not typically be the right strategy. The main purpose of memes is to connect with customers through humorous insights. Whereas B2B marketing should convey a more professional tone, rather than the personal tone that memes have.
How Can We Help?
At Loop Digital, we're constantly looking for ways to generate sustainable growth for our client-partners. There are many ways to increase engagement and traffic to your business's website and social channels. Meme marketing is an original and unique way to do this and slots in perfectly with your wider content strategy. If you're looking to explore new content marketing tactics get in touch with our team of experts today.