How someone interacts with your organisation can be the difference between securing a conversion or losing a lead to a competitor. Years ago, a potential customer may learn about your company from a business card. All the information you needed to convey about your business had to fit on an 8cm by 5cm piece of paper.
Now, people make a decision on your company long before they have the chance to read a business card. In fact, 49% of those surveyed said they use Google to discover a new item or product. A brochure website can showcase the best parts of your company to increase sales and develop long-term relationships with customers.
What is a Brochure Website?
Simply put, a brochure website is a digital version of a printed brochure. They show the products or services your company provides; however, they differ from e-commerce websites as they do not sell the product or service online. With a brochure website, the goods and services are only displayed, so customers reach out to the company to place an order or book the service.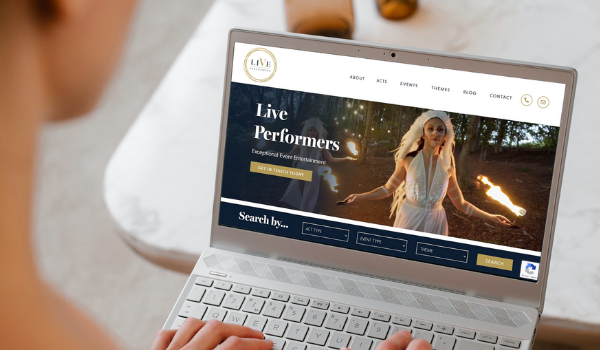 Unlike other sites, brochure websites consist of only a few key pages. The focus on the pages is the crucial information that potential customers need to know. What makes your business stand out from your competitors? How will your products or services benefit them? What do they need to do to make a purchase? When someone lands on a brochure website they don't have to wade through a swamp of superfluous information, what they need to know is already right in front of them.
Brochure websites must be visually engaging, and the most effective brochure sites utilise the latest SEO tactics to get noticed in search results. You can have the best website in the world but if it's sitting on the last results page on Google, no one will ever see it. Brochure websites are accessible on desktops, smartphones, and tablets through any browser, so you can be sure your company is reaching the maximum number of people.
A well-made brochure website is great for promoting your business. Using vivid descriptions and captivating images, they can draw people in and showcase your unique selling points to potential customers. However, if you think your business would benefit more from an e-commerce website, where you can display both products and services and allow customers to make transactions online, head over to our e-commerce page today.
The Benefits of Having a Brochure Website
High ROI
You don't have to invest in a large web design project to generate results. With the right branding, copy, and visual design elements, your brochure website's 1-5 pages can secure the results of 100 web pages. Brochure websites are a low-cost way of conveying crucial information to your target audience.
Simple websites, such as brochure sites, are easy to navigate, affordable to build and express your branding efficiently. Without a large initial outlay, you can increase sales while improving the user experience for your customers. If you need to add pages, brochure websites are also easy to scale, so you don't have to incur the costs of building a new site as your sales increase.
Modernise Your Sales Process
Across different industries are an uncountable number of companies competing for customers. And when it comes to UK consumers, 76% say they research or look for inspiration online before making a purchase. In 2022, a website isn't essential for your long-term business strategy; having the right website is.
Every competitor has their own website acting as a sales pitch. If your website is bland, features indecipherable content, and is impossible for users to navigate, potential customers are going to bounce off your site instantly. A brochure website is a sleek way of showcasing your company and instantly modernises your sales process.
On a brochure website, there are a few key pages – typically between 1-5 pages. Every word typed is relevant and engrossing. All images are eye-catching and engaging. Each element on the website has a clear purpose: help the user understand how your company can help them. If you're right for them, the site's simple-to-use interface ensures making an enquiry is quick and easy for any leads too.
Improve The User Experience
Simple websites don't have to be boring. When a user clicks on a link, they want to know the information they clicked for. Take a videography company for example. A user clicks on their website and instantly sees a well-shot, captivating video. They scroll once and see they could have a video of this quality too. They scroll again and see content that says who the company is and how to submit an enquiry. That's a simple website that will secure conversions because it offers a fantastic user experience.
Potential leads can be impatient, especially online. Think of your company's unique selling points. Instantly three have probably popped into your mind, these are likely the ones that will appeal most to your target audience. Now ask yourself how many pages you need to convey them? Maybe the answer is 10, maybe it's 3, of course, it depends on your business. But the less the user has to look for this information, the higher the chance of securing a conversion is.
How Do Brochure Websites Work?
A brochure website is made up of 1-5 pages. The number is confirmed at the start of the web development process based on your goals, branding, and digital marketing strategy. These pages can be broken into 5 distinct categories:
Homepage – An overview of your business and the opportunity to create a great first impression of your brand.
About Us – Who are you? Not only members of staff, but what your history is and core values are.
Services/Products – The services or products you provide.
Contact Page – All the contact information someone needs to enquire.
Additional Information – Sometimes there's important information there isn't room for on other pages, this should be the home of any such information.
A brochure website's site structure is simple to follow and navigate for even non-tech-savvy users. Simple websites also give you greater control over the front-end user experience. With the right web design, you can guide potential customers through the journey you want them to take. Presenting information to an interested lead at the right time is the most effective way of securing a conversion.
Admin and maintenance are also quick and easy with brochure websites. If after a period, your brochure website is successful in driving traffic and increasing sales, it's simple to add new pages as your business grows. A smart web development practice is to template the site too. This allows developers to make technical changes easily, reducing the risk of downtime and possible lost business.
The Key Features of a Brochure Website
The Dr Jenni Clinic website is a great example of the key features of a brochure website. Full disclaimer: our amazing web development team at Loop Digital designed and built the site. However, the site showcases the key features, benefits, and potential of a brochure website. The Dr Jenni Clinic is a private GP and luxury skin clinic so needed a website that was empowering, inclusive, and easy for users to book appointments through.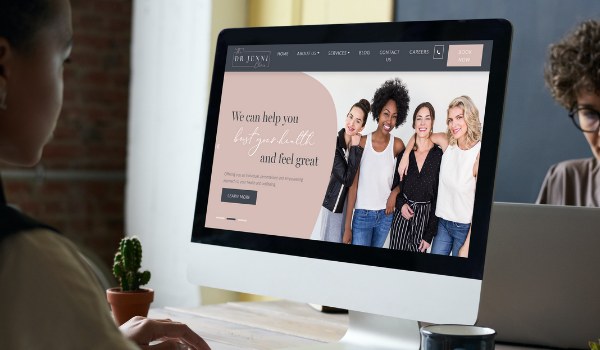 3 Key Features
Branding – Our web design team took the time to understand the brand ethos and core values of the business. This allowed them to create an eye-catching design that captures users' attention with vibrant colours, imagery, and engaging content.
Easy Appointment Booking System – A simple-to-use interface was essential, whether someone is booking online or making an enquiry.
Simple to Scale – The website is templated so is super easy to use as an administrator, whether they want to change the elements on a page or add more pages as the business grows.
Is a Brochure Website Right for my Business?
Brochure websites are not relevant for every business or sector. If you're an e-commerce business, for example, customers need to be able to purchase directly on a website. However, brochure websites are relevant for many industries and have been proven to deliver results through their simple but effective web design.
SMEs often choose to invest in brochure websites because they can secure a high ROI. While being more affordable than a large-scale web development project, they can secure conversions that see your sales figures soar. However, a large corporation may choose to have a brochure website too. If they have a simple message, a brochure website helps them to express their branding clearly and makes it easier for users to submit an enquiry.
Loop Digital Web Development
At Loop Digital, we offer a bespoke, affordable web design service whatever your industry is. Our team has years of experience developing profitable websites for startups, SMEs, and large corporations. Unlock your company's sales potential with an innovative brochure website design today, call us on 01604 806020 or visit our contact page for more information.