Neil Borden first devised the phrase Marketing Mix as the key factors that need to come together to produce the best marketing results. Over time these were refined until Edmund Jerome McCarthy streamlined these factors into what we know now as the '4Ps of marketing'.
The 4P's are constructed using a variety of internal and external factors in the business environment and how they interact and impact one another. Businesses use this framework to help identify what consumers want from them, how their products can combat challenges and meet needs, how they can interact with prospective buyers, and how they can differentiate themselves from their competitors.
By getting to grips with these elements you can ensure that your marketing is as effective as possible, alleviating potential barriers that would withhold your consumers from purchasing. Primarily you'll uncover some key insights that'll be crucial when it comes to shaping your business's marketing strategy.
What are the 4Ps of Marketing?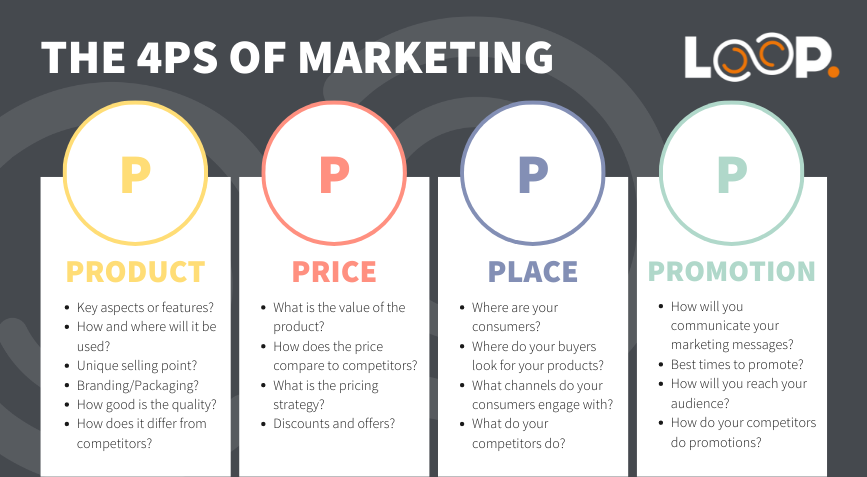 In McCarthy's book Basic Marketing: A Managerial Approach (1960), he outlined the 4P conceptual framework as:
– Product
– Price
– Place
– Promotion
The basic theory is that to market to your consumers optimally you need to provide a product that they want, at a price that meets their expectations of that product, available to them in the places they would expect to look and offered to them at the right time. Whilst this theory may have evolved with the world of marketing its key principles remain the same.
Product
The first of the 4P's of marketing is product: understanding your product, what are its benefits and who will it benefit most? Knowing your product is key to understanding how it will fulfil needs and wants of customers and only then can you market to full potential.
– What are the key aspects of the product or service you are offering?
– Where will it be used?
– What is your/its USP (Unique Selling Point)?
– How is it different from competitors'?
– When will it be used?
– How will it be used?
– What is the product lifecycle?
Price
The price element of the 4Ps is all about finding the right balance between being too cheap and too pricey – ensuring that your customers feel like they'll be getting value for money. Also, consider how your niche and brand perception will impact the price of the product, are you a high-end luxury retailer or a cheap and cheerful brand?
– How much does it cost to produce the product?
– How does the current price compete with competitors?
– Is it what the customer would expect to pay for this product or service?
– Will there be any seasonal or holiday discounts?
There are several different pricing strategies' a company could use, the typical one that businesses aim for would be the Competition Pricing / Neutral Pricing, which is charging the same – or a similar price to your competitors.
Place
The place 4P marketing factor is about ensuring that your product is available in the places your customers would expect it to be – ie. where do you plan on marketing your product? Online? In stores? Both?
Think about the following:
– Where is your target market?
– How can you reach them?
– Are you targeting locally or nationally?
Promotion
The promotion focuses on brand awareness, advertising, public relations and your overall promotional strategy. Consider other things such as press releases, exhibitions and events, conferences as other means of promoting your brand messaging. Exposing your product or brand at the right time will ensure your marketing efforts are the most successful they can be.
– Why do your customers need your product?
– Why is it worth the price tag?
All of these factors come together to help you pin down your target market: who they are, what they want, and where and how is best to sell to them. Mastering these marketing elements will help you get the best return on your promotional and sales strategies.
What are the 7P's of Marketing?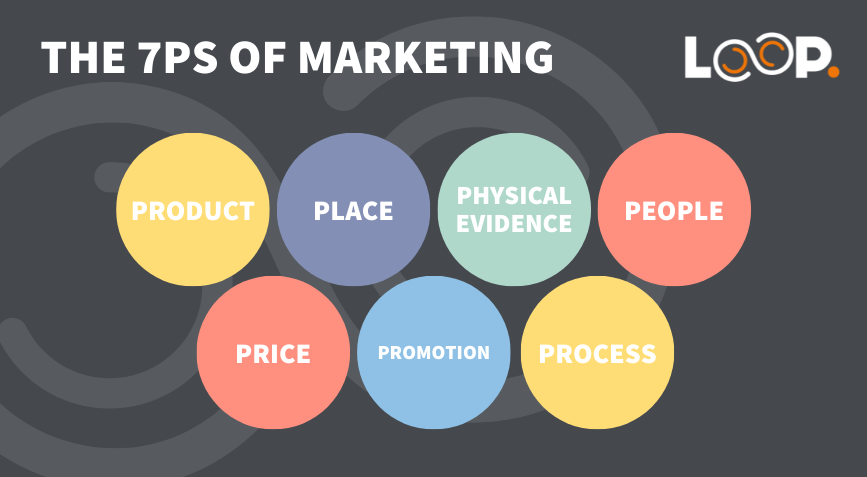 Over time, the 4P's expanded and became more comprehensive. The 7P framework aims to help companies review and define key issues that affect the marketing of their products and services.
Physical Evidence (Perception)
Perception or physical evidence in marketing is about brand image and the perceived value in your product or service, which can be incredibly powerful. Creating an emotional connection between consumer and brand encourages brand loyalty and can help bring about emotional-based impulse buys, whilst reviews can help buyers looking for proof of your value evidenced.
Consider:
– How is your business perceived by consumers and competitors?
– What do your customers or customer reviews say about you?
– What messages do you promote?
Focus on branding. For example, Google reviews can help persuade customers to come to your business as seeing 5 stars on your map listing will entice them to click to your website instead of a competitor with no review stars. Bear in mind that 72% of customers won't take any buying actions until they've read reviews.
Process
The process marketing stage is about effective and efficient working methods, more prominent for those within service-based industries. Most businesses consider the primary goal as minimising costs and maximising profits, whilst this is crucial to a business's survival, you also need to consider the level of service your customers are receiving. Are they satisfied, are they likely recommend your business to a friend?
People
The people factor in the 7Ps marketing mix comes down to two things: the people you are marketing to, and those marketing that product or service within your business. When considering the people in the sales process you need to think about the customer service you provide, as well as the way you take care of your employees and inspire them to be proud of the product they sell
Some questions to ask of your business might be:
– Are there enough people in our target market?
– How do you take care of your customers?
– How do you take care of your employees?
– Are your employees invested in your product or service? Are they excited to sell it?
Staff should believe in the products or services and be knowledgeable about them. That way, they can also input thoughts and passions to help the growth of a marketing strategy or process.
How can we help?
Hopefully, this article has provided you with a good understanding of the marketing mix and how it's developed to cater to today's marketing challenges. If you think you would benefit from additional marketing materials, like tips, tools and templates, join our exclusive email community today to receive the latest marketing insights straight to your inbox. At Loop Digital we provide end-to-end marketing solutions for businesses of all shapes, sizes and sectors, get in touch with our team today for further information.